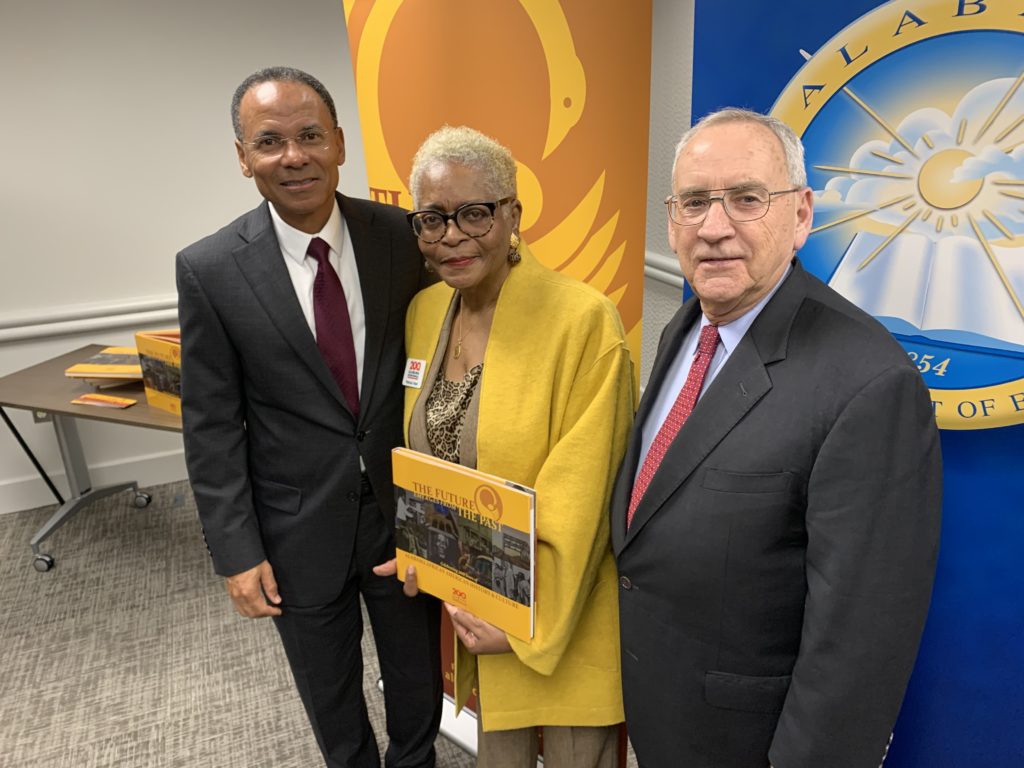 Above: Patricia Ford (center), flanked by Glyn Agnew and AT&T Alabama President, Wayne Hutchins, holds a copy of The Future Emerges from the Past: Celebrating 200 Years of Alabama African History and Culture.
Destined to be a lifelong learner, historian, and educator, Mrs. Ford's love of education was evident from the start. She graduated salutatorian of her high school class and matriculated at Alabama A&M University where she received her undergraduate degree in Business Education with a minor in English. She continued her education at Vanderbilt University's Peabody College of Education and Human Development where she obtained her master's degree in library science. Mrs. Ford also completed post masters work in library science at Peabody College, and courses in business education/administration and personnel administration at Alabama A&M University. Additionally, she completed the course work for the ABD in Educational Leadership from Nova Southeastern University, Ft. Lauderdale, Florida.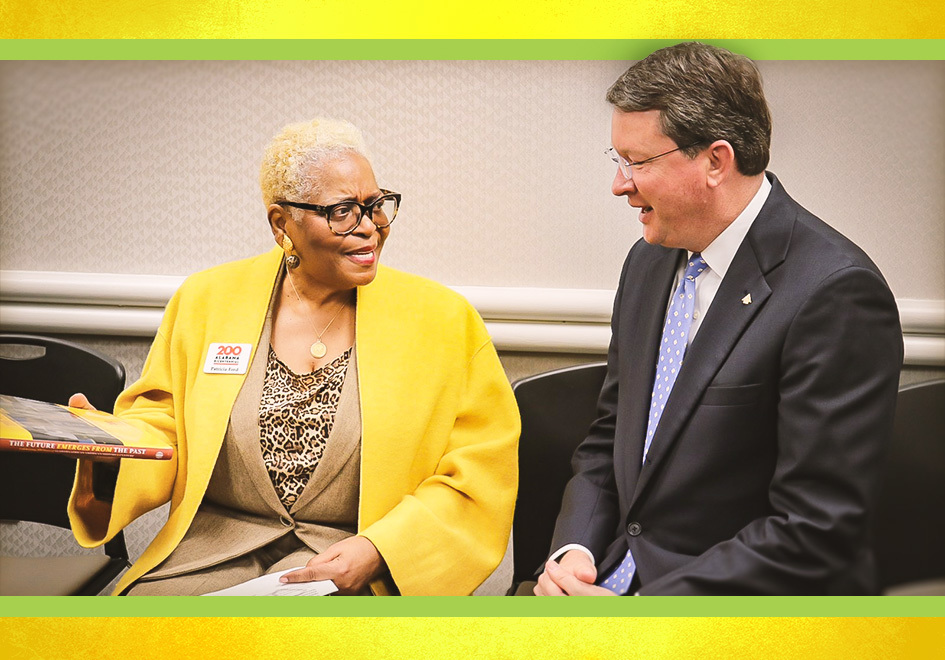 Left:  Ford speaks with
Robert Birmingham,
Executive Vice President
Regions Bank in
Montgomery,
about the new book.
Mrs. Ford began her extensive education career in 1965 at Council Training High School in Huntsville, Alabama as a business teacher, where she taught typing, shorthand, and general business. In 1969, she began working at her alma mater, Alabama A&M University as an administrative assistant to Dr. Carl H. Marbury in the Department of Library Media in the Joseph F. Drake Learning Resources Center (LRC). Dr. Marbury would later become the seventh president of Alabama A&M University. Mrs. Ford rose through the ranks at A&M becoming the assistant to the director and eventually the Interim Director of the Learning Resources Center. Under her leadership, the LRC underwent extensive renovations and expansions. Today, the Joseph F. Drake Memorial Learning Resources Center consists of 73,485 square feet of space, can house up to 400,000 volumes, and seat well over 1,000 patrons.
After her successful tenure at the LRC, Mrs. Ford accepted the position of Director of the State Black Archives & Research Center Museum housed on the campus of Alabama A&M University. In 2017, the Alabama Bicentennial Commission was searching for the right person to lead the Commission's Alabama African American Heritage Committee. As an experienced archivist and with an in-depth knowledge of Alabama African American history, Mrs. Ford was the obvious choice to lead the committee. After three long years of tireless research and work, The Future Emerges from The Past: Celebrating 200 Years of Alabama African American History & Culture was published and distributed to every K-12 public school and Historically Black College and University (HBCU) in Alabama. The book is currently a reference document used by teachers across the state. 
Left:  Front cover, The Future Emerges from the Past: Celebrating 200 Years of Alabama African American History and Culture.
Above: Art for Modern Civil Rights Movement section.
Mrs. Ford is a member of the historic St. Bartley Primitive Baptist Church, the oldest black church in the state of Alabama. She is also a member of Epsilon Gamma Omega Chapter of Alpha Kappa Alpha Sorority, Incorporated and is a charter member of Greater Huntsville Chapter of the Links, Incorporated.
Mrs. Ford has always been an avid reader and has great interest in genealogy. Mrs. Ford is the widow of the late Charles F. Ford, who was also an educator, and they have one daughter, Kimberly A. Ford, an attorney in Huntsville, Alabama.